News from The Straw Horses
updated July 2020
'The Wheel', our third album, will be released in August 2020!
The video previews have been taken down to make way for final versions which will be launched when the album goes live.
updated May 2020
Seven of the songs from The Wheel are now available online at youtube.com/LudoPhonographic and on our facebook page - and on our video page right here on this website.
updated March 2020
Work continues on the third album. Two songs are now ready and available on our videos page. We've done some gigs with new bassist John Rose but live shows are on hold while we work on the completion of the new album.
Our two albums are still (just about) available on CD, and fully downloadable from Soundcloud as hi-res (wav) files.
Calendar:
https://soundcloud.com/thestrawhorses/sets/calendar-an-album-by-the-straw-horses
Dorset Tales:
https://soundcloud.com/thestrawhorses/sets/dorset-tales-by-the-straw
updated October 2019
Gig:
Friday 15th November 2019
The Barley Mow, 53 High St, Paulerspury, Towcester NN12 7NA
Double bill with Andy Griffiths
9pm start, 11.30 finish
fb event here: https://www.facebook.com/events/394530538165225/
Gig:
Sunday 24th November 2019
The Boat Inn, Stoke Bruerne, NN12 7SB
6.30pm - 10pm (Straw Horses 8.40pm - 9.10pm)
fb event here: https://www.facebook.com/events/2362194397191403/
updated September 2019
Video:
'Mabon - The Falling' from our forthcoming album 'The Wheel'. Special autumn equinox release available now on the 'video' page.

updated August 2018
Gig:
Sunday 2nd September 2018
The Songwriter Sessions
The Drunken Duck, Kislingbury, Northampton, 7.30pm
https://www.facebook.com/thesongwritersessionsUK/
updated May 2018
Gigs:
Sunday 10th June 2018
Wimborne Minster Folk Festival
https://wimbornefolk.co.uk/int/EventShow.php?e=914
Saturday 28th July 2018
Twinfest, Northampton: The Pomfret Arms
https://www.facebook.com/events/2127784320811744/
updated October 2017
Gig:
Tuesday 16th January 2018
The Great Knight Folk Club, Northampton
updated June 2017
Two gigs:
Thursday 22nd June, 8pm
The Pomfret Arms
10 Cotton End, NN4 8BS Northampton
It's the opening gig of Twinfest 2017. Full details are here: https://www.facebook.com/events/1035697603228474

Thursday 29th June, 8pm
The Villiers Hotel
3 Castle St, Buckingham MK18 1BS
£10 - tickets via the link below.
An evening of spoken word and music, including sets from The Straw Horses and Rob Bray on his own, doing his 'trenchant and irreverent' improvised song-mangling routine. Full details are here: http://www.bucklitfest.org/product/event-1-1-venessa-the-bard-8-00-pm-thursday-29th-june/
updated May 2017
The Straw Horses will play at YorkieFest, York House, Stony Stratford, at 6pm on Saturday 13th May. More info: http://york-house.org.uk/events/yorkiefest-2017/
updated April 2017
'Dorset Tales' is released today! See the panel on the right for where to get it. More info about the album is on its dedicated page within this website.
updated March 2017
Just back from the MaNo festival in Marburg, Germany, where we played three gigs, saw a load of great bands, caught up with old friends and made a bunch of new ones. Beautiful!
We've just revised the website to make it work on smaller screens and to get it ready for the launch of the second album, 'Dorset Tales' It's been in the studio for over a year and is now in the factory. It'll be out in April. Follow us on facebook for a run of previews counting down to the launch day, and join our mailing list to be among the first to know when we release it.
updated Jan 2017
Happy New Year to you all! We played a very special Winter Solstice House Party on December 21st in which we performed our entire Wheel Of The Year suite, interspersed with poems written specially for the occasion. Remember - house gigs are a great way to enjoy acoustic music like ours. Let us know if you want one.
Buy Dorset Tales on CD or as a download
The Straw Horses' second album 'Dorset Tales' is available from Amazon, iTunes, CDBaby, Google Play, and other retailers.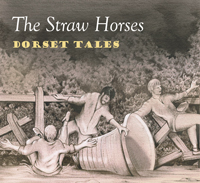 Facebook

Wordpress

Twitter

Mailing list